One question that has been continually asked by residents is how can the Real Estate Agents sell mobile homes in Kort & Scott parks knowing what is happening and what the outcome may be? If they were Realtors, they may be in violation of their licensing requirements and Code of Ethics which states this…
REALTORS® having direct personal knowledge of conduct that may violate the Code of Ethics involving misappropriation of client or customer funds or property, willful discrimination, or fraud resulting in substantial economic harm, bring such matters to the attention of the appropriate Board or Association of REALTORS®.
But, these are not Realtors that we are discussing, these are individuals who have an HCD Occupational License which allows them to legally sell mobile homes in the State of California. The Occupational Licensing Program is administered exclusively by the California Department of Housing and Community Development.
The MHPHOA believe that the high volume retailers in Kort & Scott owned mobile home parks have "direct personal knowledge" of the park owner's predatory business practices. One such retailer is Monarch Home Sales located at 8907 Warner Avenue, Suite 151, Huntington Beach, California 92647-8303, 714-916-0310.
Based on our research of publicly available information, Monarch Home Sales have been responsible for a large number of mobile home sales in a portion of Kort & Scott mobile home parks since Jan 2013. These particular mobile home parks owned by Kort & Scott are experiencing an alarmingly high turnover rate and Monarch Home Sales is where it begins.
These are mobile home sales that are publicly advertised. There are many mobile homes being sold that do not make it into the public realm. The retailer names we see involved in these high volume sales are; Elizabeth A. Alex, Emily R. Tice, (SP1265837), and Vernon E. Heim (SP1274084), in that order.
Monarch Home Sales are one tool being utilized to fuel the Kort & Scott predatory business model. This retailer has been responsible for the sale of many homes that appear to be owned by a Kort & Scott affiliate (park owned homes).
The MHPHOA believe these high volume retailers should have their Occupational Licenses revoked. It is time to put a stop to this predatory business model and it all starts with the sales of mobile homes.
Tustin Village Mobile Home Park, 102 South Portola Lane, Tustin, CA 92780
Note: Monarch Home Sales are responsible for a large number of what appear to be substandard mobile homes within the Kort & Scott inventory, these mobile homes are sold with "AS-IS" Statements and new home owners are required to repair any deficiencies with the unit.
Tustin Village Mobile Home Park, 112 South Portola Lane, Tustin, CA 92780
Tustin Village Mobile Home Park, 110 Balboa Lane, Tustin, CA 92780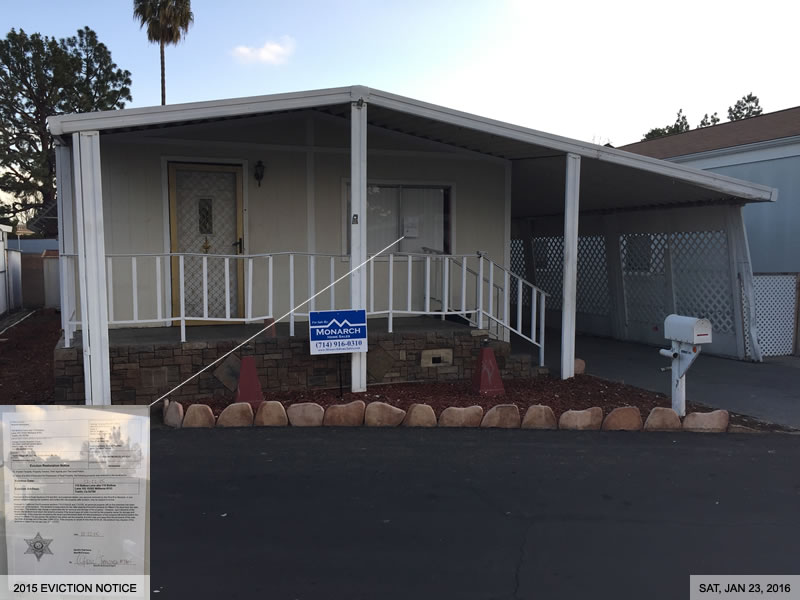 Note: This mobile home was listed for sale and sold by Monarch Mobile Home Sales with the previous home owner's Eviction Notice displayed in the front window.