2019 Jan – Kort & Scott Financial Group (KSFG) purchased Rancho Huntington Mobile Home Park in 2012 for $25,400,000 (Fannie Mae ARM).

In January 2006, space rents were advertised at $500 per month. In January 2013, space rents were advertised at $1,000 per month. As of January 2019, mobile home space rents are now advertised at $2,200 per month, that's a 120% increase in six (6) years and a 340% increase in twelve (12) years. As of Jan 2019 the average space rent for 14 of the 17 mobile home parks in Huntington Beach, California is $1,395 per month.

Rancho Huntington Mobile Home Park was a senior park at the time of the KSFG purchase. It has since been converted to an all ages park. Prospective mobile home buyers must prove income of 3x the current space rent which equals $6,600 per month or $79,200 per year.
System Administrator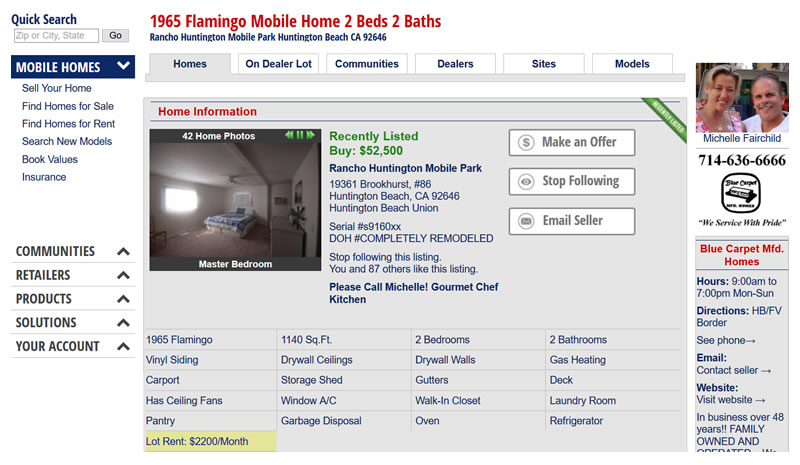 ---
2017 Mar – We own a manufactured home in Rancho Huntington Mobile Home Park. We purchased it 3 years ago and after fixing up the house we learned that the park was sold to new owners and now they want to keep increasing the land lease upon sale. They have already increased the lease price from the original $1,200 to $1,900. We purchased the property with the intention of fixing it up and selling it. Now we are faced with no buyers willing to pay the lease cost. Is there anything we can do?
---
2017 Feb – When being approved by the park for residency, I had no choice but to sign a 25 year lease. I cannot transfer that lease to a new buyer. New buyers must pay $1,800 a month with a 6.0% increase every following year. It's making it an impossibility to sell the home! I cannot afford to continue living here but have found that they have given me no way to get out of it short of turning the mobile home over to them or asking them to purchase it for a ridiculously low price. They have made it almost impossible for anyone to buy in here based on the income requirements and several other areas. I want desperately to find a way to fight them but I cannot financially afford to do it alone!
---
2016 Aug – Kort & Scott Financial Group (KSFG) purchased Rancho Huntington Mobile Home Park in 2012 for $25,400,000 (Fannie Mae ARM).

In January 2006, space rents were advertised at $500 per month. In January 2013, space rents were advertised at $1,000 per month. As of August 2016, mobile home space rents are now advertised at $1,900 per month, that's a 90% increase in three (3) years and a 280% increase in ten (10) years.

Rancho Huntington Mobile Home Park was a senior park at the time of the KSFG purchase. Prospective mobile home buyers are expected to prove income of 3x the current space rent which equals $5,700.
System Administrator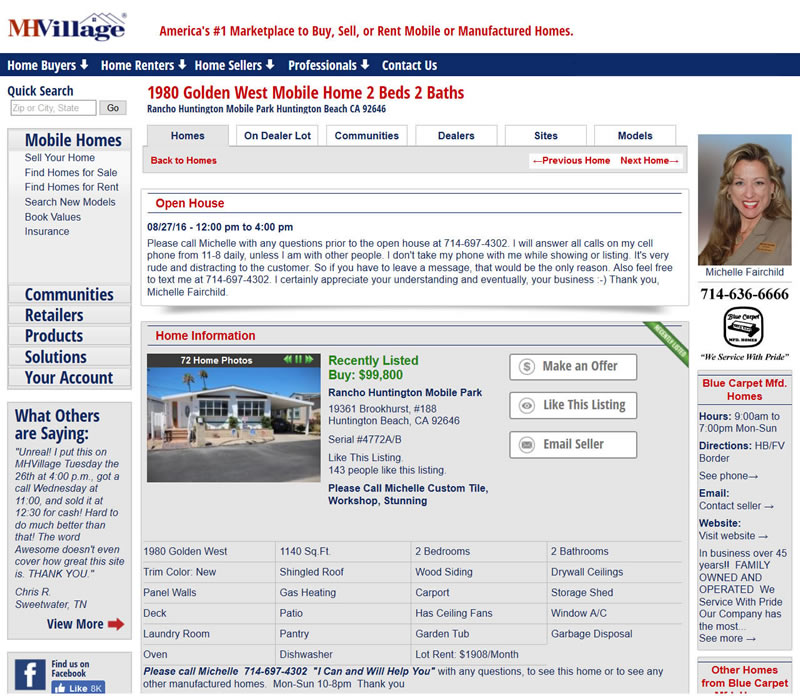 ---
2015 Sep – Rancho Huntington's owner is mobile home industry mogul Kort & Scott Financial Group (KSFG), which operates hundreds of parks throughout the country. Through Sierra Corporate Management, it attempted to convert Rancho Huntington Mobile Home Park into an all-ages community in 2013, a common tactic to drive out seniors and make more money off newer, better-off tenants. But the city created a "senior park overlay" in March 2014 that prevents the conversion of all 10 of Huntington Beach's current senior parks into all-ages parks.

At Rancho Huntington, Kort & Scott Financial Group (KSFG) has raised rents to match the expected conversion. HOA treasurer Pat Taylor has seen her rent increase $350 in two years. Fellow HOA member Barbara Rocha's lease allows $200 increases for two years, with $89 increases three years thereafter. As with El Nido in San Juan Capistrano, Rancho Huntington residents were offered 25-year leases riddled with potential rent increases while promising little protection. After a back-and-forth between Sierra Corporate Management and the Rancho Huntington HOA, the periodic rent increase was shelved, with residents settling for an annual 7 percent rent increase for now.

While several residents would like to leave, they're stuck in what Rocha calls a "hostage situation." Not only are rents dramatically increasing, but many other mobile home parks have ratcheted up move-in qualifications over the past decade; for instance, Kort & Scott Financial Group (KSFG) requires prospective tenants to prove they make three times the monthly rent at Rancho Huntington. "How many retired people do you know that bring in $5,400 a month as income?" HOA president Bruce Binder asks.
OC Weekly
---
2014 Jun – In the past, and hopefully in the future, I would have given Rancho Huntington Mobile Home Park five gold stars. However, in the recent past the park has been purchased by a large corporation (Kort & Scott Financial Group) that is attempting to change us over from a senior park to an all age park. As many of our neighbors did, we purchased our mobile home with the intention of living here until we died and leaving our home to our son and his family. The management company (Sierra Corporate Management) has not made any attempt to resolve this situation or even discuss it with the current residents. This has long been a quiet and serene mobile home park where many members of Orange County's older community have been happy to spend their retirement years. With the possibility of families with children moving into the park, the quiet enjoyment of our park, including the swimming pool, the billiards room, the workout room, the laundry facilities, etc. will be lost. There will be a lot of noise and children riding bicycles, skateboards, roller skates, and other children's toys throughout the days. Those who are disabled and/or sick will not be able to relax and take a nap in the afternoon. Huntington Beach City Council is attempting to assist the residents in their attempt to keep RHMHP a senior park, but only time will tell.
Annie B.