Mobile Home Owner News – Dec 2019
Resident curated mobile home owners news and information for residents of Mobile Home Parks owned by Kort & Scott (KS) companies. The MHPHOA also provides news coverage for Mobile Home Parks not owned by KS companies.
Click/tap the story headlines to open a link to the full original story and/or media such as streaming video from City Council Meetings. Story headlines with are inline news stories.
Clicking or tapping links with a caret (kar-it, carrot) will expand/show additional content and change to to collapse/hide content. Content that is collapsed/hidden will not print.
---
Corona La Linda Mobile Home Park – Change in Management
RE: Kort & Scott Financial Group, J & H Asset Property Management
Mon, Dec 23, 2019 – Letter to Corona La Linda Mobile Home Park Residents: On behalf of Kyle Joffe, and the rest of our staff here in Yorba Linda, I am pleased to announce that the ownership of Corona La Linda contracted J & H Asset Property Mgt., Inc. to assume the property management responsibilities of your community. Our service will officially begin on January 01, 2020.
J & H Asset Property Management Letter
December 23, 2019
All Residents
Corona La Linda
777 South Temescal Street
Corona, CA 92879
RE: Management Change
Dear Resident(s):
On behalf of Kyle Joffe, and the rest of our staff here in Yorba Linda, I am pleased to announce that the ownership of Corona La Linda contracted J & H Asset Property Mgt., Inc. to assume the property management responsibilities of your community. Our service will officially begin on January 01, 2020. Our role is to "step into the shoes" of Park Ownership and take responsibility for all facets of Park operations. We will operate Corona La Linda at a high level to deliver quality and value to its residents. We are a full-service property management firm, specializing in the management of Mobile home Parks, RV Parks and Manufactured Home communities since 1986.
Office Hours and phone number will remain unchanged. Current manager will have limited oversight while we hire a new park manager for the community.
Payments to the park are not changed. Please continue to pay your space rent and other items listed on your rent statement by check or money order, payable to Corona La Linda at the Park office. In addition, please be advised that no partial payments will be accepted unless you have made prior arrangements with park management. Reminder, rent and other charges are due by the 1st of the month.
As a normal part of our takeover operations, we will be conducting a complete safety and status inspection of all the common areas and individual spaces in the coming weeks. Please do not be alarmed if you see Kyle, or others from our office taking photos and making notes. Please introduce yourself if you have the time. Safety and maintenance is of the utmost importance.
We at J&H look forward to working with the Residents and staff of Corona La Linda.
Sincerely,
Kyle Joffe
Property Manager
BRE #0200956
KJ/bg
Address:

777 South Temescal Street

,

Corona

,

California

92879

County: Riverside
Phone:

951-734-1094

Spaces: 132
Type: Family
2019 Space Rent: $950
Purchased: May 2015, Amount: $16,700,000
Broker: Robert M. Paez, Martinez and Associates
Management:

J & H Asset Property Management Inc

(2020-01-01)
DBA:

Corona La Linda Associates LP

,

Corona La Linda GP LLC

DBA Filing: May 2015
RE: Hometown America
Wed, Dec 18, 2019 – Carol Mulvihill reacted Wednesday morning, one day the after the Rancho Mirage Mobile home Fair Practices Commission agreed with her and other tenants at The Colony in their complaints against park owner Chicago-based Hometown America.
They have to pay a $500 civil penalty for every infraction that they've taken away from us," said Mulvihill.
Tuesday, the city commission ruled that Hometown America's rent increases over the past four years violate city code, and found the company failed to properly maintain a number of amenities and services at The Colony promised in contracts with mobile home owners who rent spaces at the gated community.
Quintanilla says the next step for the city is to go to court to ask a judge to "bless" the conclusion reached by the city commission, which would then make the commission's ruling "enforceable".
Hometown America could then be held liable for attorney's fees and courts costs, and more importantly for the residents, refunds for rent overcharges, reduced rents and restoration of amenities, of which Mulvihill says there are more than 25 which have been eliminated or fallen into dis-repair.
Thu, Dec 12, 2019 – Mobilehome owners urged to protect their homes by obtaining current title and registration. Register Your Mobilehome California, a state program that gives owners the opportunity to waive hundreds or even thousands of dollars in state and local taxes, fees, and penalties, has been extended until December 31, 2020.
The program, administered by the California Department of Housing and Community Development (HCD), allows people who acquired a mobilehome or manufactured home, but were not provided proper title and registration, to correct the issue. By signing Assembly Bill 173 (Chau, 2019) into law October 3, 2019, Governor Gavin Newsom extended the successful program through the end of 2020, ensuring more families will have the opportunity to obtain proof of ownership for mobilehomes they rightfully purchased.
Mobilehome and manufactured homeowners who have never applied for registration and do not have titles to their homes are eligible for the program. Under many circumstances, the owner never realized the mobilehome was supposed to have proper title and registration. Other owners may have wanted title but could not afford the back state and local taxes and fees.
Register Your Mobilehome California – Overview and Application Instructions
Wed, Dec 11, 2019 – Mobile home parks in the unincorporated areas of Ventura County could not be redeveloped into higher-priced types of housing under a zoning change approved Tuesday.
Voting unanimously, the Ventura County Board of Supervisors placed the 25 parks in a special zone where owners are essentially prohibited from converting the properties into alternate uses such as apartments and condominiums.
Planning officials said these types of zones have been approved in the cities of Riverside, Newport Beach and Hermosa Beach plus Santa Cruz and Trinity counties.
The board also adopted a companion measure establishing age requirements for eight of the parks that are currently designated for seniors. The latter proposal requires that at least 80% of the occupied mobile homes have at least one resident who is age 55 or over. Both measures take effect in 30 days.
Fri, Dec 6, 2019 – A proposal that could be passed Tuesday would establish special zoning to prevent the conversion of mobile home parks in unincorporated Ventura County into higher-priced housing.
The proposal goes beyond the current rules that require permits to close parks, evidence that the closures won't cause substantial harm and measures to soften the effect on displaced residents. It essentially bans any other type of housing on property occupied by the 25 parks because the new zone would not allow it.
Mobile home resident Liz Cole, who brought the idea to a county rent control board five years ago, is urging the Ventura County Board of Supervisors to enact the additional protection for the 3,500 residents of the parks. She sees it as a way to head off the potential conversion of parks into other uses – such as apartments and condominiums – as property values rise in the high-cost county.
It's literally an insurance policy, said the 73-year-old Ojai Valley retiree who advocates for mobile home residents' interests.
RE: Belmont Shores Mobile Estates
Tue, Dec 10, 2019 – The decision brought an end to the months-long debate over whether tenant protections that had been enshrined in local and state laws should be extended to people living in mobile homes.
Laws such as Long Beach's soon-to-be-repealed tenant relocation ordinance and the statewide rent hike cap that goes into effect Jan. 1 do not apply to mobile home residents because they own the mobile homes themselves while renting the land underneath them.
That loophole became clear in September, when residents in the seniors-only Belmont Shores Mobile Estates received a letter informing them of a 35% rent hike that would go into effect in January.
Tue, Dec 3, 2019 – The park's management company has offered a new rent credit program, along with subsidies for some folks, but residents are skeptical it will be enough to keep them in their homes.
The park's management company, Newport Pacific, has tried to respond to those worries. Although the company issued a Sept. 26 letter to residents notifying them that the steep increase would take effect Jan. 1, they have since reached out again. A Nov. 18 letter informed McPherson and her neighbors that the 35% hike would still go into effect as planned – but every resident will be eligible for rent credits that will effectively spread the increase out over the next four years.
Now, the residents will have to pay an 8.7% increase on Jan 1; next year, they will face another 8% hike; the year after that, they will be charged another 7.4% raise; and finally, on Jan. 1, 2023, they will face a 7.2% increase.
Mon, Dec 2, 2019 – The BoaVida Group, a Sacramento-based owner and operator of mobile home and RV communities across the country, is expanding its office space five-fold and adding 30 employees as it experiences a significant increase in activity.
We have been very busy this year and there are dozens of new projects on the horizon, said BoaVida's Eli Weiner.
Weiner created an investment fund earlier this year to facilitate the company's growth and add more than $150 million of properties to the $300 million the company already owns and operates. In recent months, the company has spent more than $82 million acquiring 22 mobile home communities totaling more than 2,200 spaces from California to Rhode Island.
The fund has allowed us to move quickly, acquiring properties with cash and then investing in capital improvements to increase the value for residents and investors, said Weiner. We have the infrastructure in place for this pace of activity and are now hiring teams in property management and administration to prepare for more than 35 additional properties we will begin managing in the first quarter of 2020.
Mon, Dec 2, 2019 – From the 2019 MRL FAQ #18 regarding Long-Term Leases, note the Recap: Buyers, or prospective residents, may not have the option to reject a long-term lease.
Can the park manager force residents to sign a long-term lease, causing them to lose rent control protections?
If the resident is currently a homeowner residing in the park, then they may reject a long-term lease and opt for a shorter-term lease. In the case of a prospective buyer of a home in the park who is not yet a resident, their right not to sign such a long lease is less clear. A rental agreement or lease with a term of more than 12 months is exempt from any rent control ordinance. (Civil Code §798.17) The resident may reject a long-term lease after reviewing it and opt for an annual or month-to-month rental agreement. (Civil Code §798.18) If the resident elects to have a rental agreement for 12 months or less, the rent charges and conditions shall be the same as those offered in the longer-term lease during the first 12 months (Civil Code §798.18). Not all long-term leases are bad for homeowners, and some may provide rent stability for years that month-to-month or annual tenancy does not, particularly in localities where rent control will probably never be enacted. (See also #19)
Recap:
Current homeowners residing in the park have the option of signing a short-term lease agreement with charges and conditions that are the same as in a long-term lease.
Buyers, or prospective residents, may not have the option to reject a long-term lease.
Residents have 30 days to review and accept or reject a long-term lease.
Sun, Dec 1, 2019 – Historical Assembly Bill (AB) NOT Passed – Thu, Feb 18, 2016 – AB-2351 Mobilehome parks: rent control. Introduced by Assembly Member Roger Hernández – An act to repeal Section 798.17 of the Civil Code, relating to mobilehome parks.
The Mobilehome Residency Law governs the terms and conditions of residency in mobilehome parks, and exempts a rental agreement that satisfies specified criteria, including that it be in excess of 12-months' duration, from any ordinance, rule, regulation, or initiative measure adopted by a local governmental entity that establishes a maximum amount a landlord may charge a tenant for rent.
This bill would repeal these provisions. The bill would make a statement of legislative findings.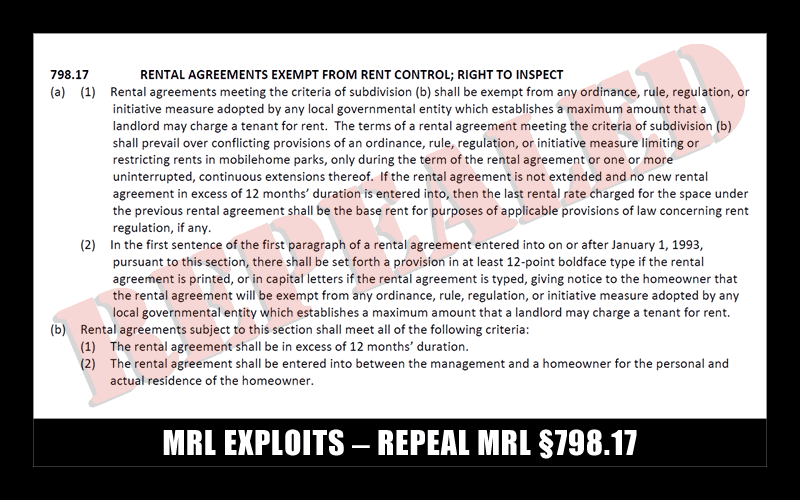 Stop Predatory Park Owners
Fri, Nov 22, 2019 – Kabateck LLP attorneys representing hundreds of low-income mobile home residents in Long Beach, California secured a nearly $57 million settlement, which is the largest settlement ever involving a mobile home park.
MRL Protection Program
Beginning July 1, 2021, any mobilehome or manufactured homeowner living in a mobilehome park under a rental agreement may submit a complaint for an alleged violation of the Mobilehome Residency Law. Any mobilehome or manufactured homeowner residing in a permitted mobilehome park is eligible to submit a complaint. Complaints must be submitted to HCD. HCD provides assistance to help resolve and coordinate resolution of the most severe alleged violations of the Mobilehome Residency Law.
Any mobilehome / manufactured homeowner who lives in a mobilehome park.
What Types of Complaints can be Submitted for Consideration?
Any complaints for issues within mobilehome parks related to Mobilehome Residency Law violations (California Civil Code).
Common violations include illegal grounds for eviction, failure to provide proper notice of rent increases, or no written rental agreement between the park and mobilehome owner.
How Does a Mobilehome/Manufactured Homeowner Submit their Complaint?
Complaints must be submitted to HCD. HCD provides help to resolve and coordinate resolution of the most-severe alleged violations of the Mobilehome Residency Law. Visit the Submit a Complaint webpage for details.