Mobile Home Owner News – Mar 2020
Resident curated mobile home owners news and information for residents of Mobile Home Parks owned by Kort & Scott (KS) companies. The MHPHOA also provides news coverage for Mobile Home Parks not owned by KS companies.
Click/tap the story headlines to open a link to the full original story and/or media such as streaming video from City Council Meetings. Story headlines with are inline news stories.
Clicking or tapping links with a caret (kar-it, carrot) will expand/show additional content and change to to collapse/hide content. Content that is collapsed/hidden will not print.
---
Tue, Mar 10, 2020 – San Jose lawmakers on Tuesday unanimously approved creating a new land use designation for mobile home parks that would prevent hundreds of low-income residents from being forced to lose their homes as developers eye the land to build extravagant new homes.
The stricter redevelopment protections will apply to all 58 mobile home parks in the city including the Westwinds and Mountain Springs mobile home parks – following a series of contentious battles over the threat of these sites being bulldozed to build upscale housing.
The proposal will change the mobile home parks' land use designation from "residential" to a new "mobile home park" designation, which would require the City Council to approve any requests to close a mobile home park or convert it to an alternative use.
The new zoning rules, which go into effect in 30 days, will require additional scrutiny for every conversion or closure – including public hearings and city-mandated protections.
RE: MHC Operating LP (ELS), Nicholson Family Partnership LLC
Thu, Jan 9, 2020 – Westwinds Mobile Home Park resident Rob Leeper was astonished when he found a letter taped to his home Friday, informing him his family could be out of a place to live by the fall of 2022.
We were like what the heck? You know how much it costs to move one of these things? Leeper said of his 1,800-square-feet, 3-bedroom, 2-bath home. We would like to stay here if we could. We are a small village in a huge city.
Westwinds, located at 500 Nicholson Lane in North San Jose, hosts more than 700 mobile homes. The notices came from the management company, MHC Operating, which sued the property owner, Nicholson Family Partnership, early last week, stating they have no obligation to remove any of Westwinds residents before or upon the expiration of its lease.
Now, San Jose lawmakers have stepped in to try and assuage the roughly 1,600 mobile home park residents' concerns. Mayor Sam Liccardo and Councilmember Lan Diep, whose district includes the park, held a news conference Thursday morning to announce a plan to expedite a land use designation that would protect the park and others like it.
The designation would mean a mobile home park owner cannot change what goes on that land without a general plan amendment, which is more difficult to obtain and requires approval from city officials. The designation would need to go through the planning commission, housing commission and City Council.
Advocates Seeking Organizational Support for California Senate Bill 999
RE: Senate Bill 999
Thu, Mar 5, 2020 – On behalf of [Organization], I am proud to write in support of your bill, Senate Bill 999, which would restore local control and help ensure rent affordability for mobilehome residents by removing a state-imposed loophole in local mobilehome rent stabilization ordinances. Loopholes in state law to local rent stabilization ordinances have undermined local control and prevented any effective safeguards against rent abuse from being implemented.
Sponsors: Golden State Manufactured-Home Owners League (GSMOL) (Co-Sponsor), County of Los Angeles (Co-Sponsor)
SB 999 Sample Support Letter
GSMOL Letter to The Honorable Tom Umberg
Office of Legislative Counsel Draft Bill
SB 999: Local Rent Stabilization; Mobilehomes
Thu, Feb 13, 2020 – Senator Thomas J. Umberg (D-Santa Ana) introduced Senate Bill 999 today, a measure that would restore local control and stem the tide of rapidly increasing rental rates for mobilehomes across California. The County of Los Angeles and Golden State Manufactured Home Owners League are cosponsors of the bill, representing a strong coalition between local government and residents.
When it comes to the issue of rent affordability for mobilehome residents, state law has been a part of the problem, not the solution, said Senator Umberg. Senate Bill 999 will provide local governments with a real opportunity to make community-informed decisions that protect residents. Our housing crisis demands solutions at every level, for all incomes, and all kinds of homeowners and renters, continued Senator Umberg.
Senate Bill 999, coauthored by Assemblymember Monique Limón, would remove a loophole in state law that has effectively prevented local governments from enforcing their own rent stabilization ordinances for mobilehome residents. Current law prevents local rent stabilization ordinances from applying to any mobilehome resident with a lease longer than 12 months.
Sponsors: Golden State Manufactured-Home Owners League (GSMOL) (Co-Sponsor), County of Los Angeles (Co-Sponsor)
Wed, Jan 1, 2020 – Historical Assembly Bill (AB) NOT Passed – Thu, Feb 18, 2016 – AB-2351 Mobilehome parks: rent control. Introduced by Assembly Member Roger Hernández – An act to repeal Section 798.17 of the Civil Code, relating to mobilehome parks.
The Mobilehome Residency Law governs the terms and conditions of residency in mobilehome parks, and exempts a rental agreement that satisfies specified criteria, including that it be in excess of 12-months' duration, from any ordinance, rule, regulation, or initiative measure adopted by a local governmental entity that establishes a maximum amount a landlord may charge a tenant for rent.
This bill would repeal these provisions. The bill would make a statement of legislative findings.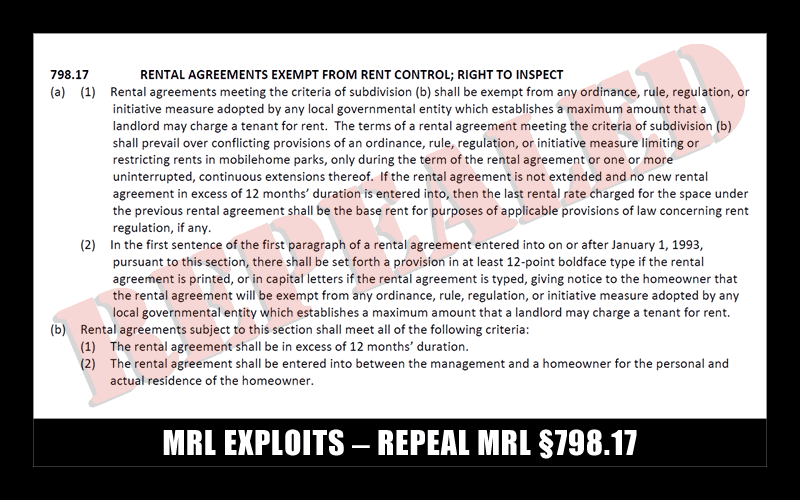 Stop Predatory Park Owners
Fri, Nov 22, 2019 – Kabateck LLP attorneys representing hundreds of low-income mobile home residents in Long Beach, California secured a nearly $57 million settlement, which is the largest settlement ever involving a mobile home park.
MRL Protection Program
Beginning July 1, 2021, any mobilehome or manufactured homeowner living in a mobilehome park under a rental agreement may submit a complaint for an alleged violation of the Mobilehome Residency Law. Any mobilehome or manufactured homeowner residing in a permitted mobilehome park is eligible to submit a complaint. Complaints must be submitted to HCD. HCD provides assistance to help resolve and coordinate resolution of the most severe alleged violations of the Mobilehome Residency Law.
Any mobilehome / manufactured homeowner who lives in a mobilehome park.
What Types of Complaints can be Submitted for Consideration?
Any complaints for issues within mobilehome parks related to Mobilehome Residency Law violations (California Civil Code).
Common violations include illegal grounds for eviction, failure to provide proper notice of rent increases, or no written rental agreement between the park and mobilehome owner.
How Does a Mobilehome/Manufactured Homeowner Submit their Complaint?
Complaints must be submitted to HCD. HCD provides help to resolve and coordinate resolution of the most-severe alleged violations of the Mobilehome Residency Law. Visit the Submit a Complaint webpage for details.