Mobile Home Owner News – Jan 2021
Resident curated mobile home owners news and information for residents of California Mobile Home Parks managed by Sierra Corporate Management (SCM) and owned by a Kort & Scott Financial Group (KSFG) company. The MHPHOA also provides news coverage for California Mobile Home Parks not owned by KSFG.
Click/tap the story headlines to open a link to the full original story and/or media such as streaming video from City Council Meetings. Story headlines with are inline news stories.
Clicking or tapping links with a caret (kar-it, carrot) will expand/show additional content and change to to collapse/hide content. Content that is collapsed/hidden will not print.
---
Thu, Jan 28, 2021 – The MHPHOA online version of the 2021 California Mobilehome Residency Law in HTML has been updated to reflect all changes indicated below.
From the Senate Select Committee on Manufactured Home Communities:
Division 2, Part 2, Chap. 2.5 of the Civil Code. The Mobilehome Residency Law (MRL) is the "landlord-tenant law" for mobilehome parks, which, like landlord-tenant law and other Civil Code provisions, are enforced in a court of law. The Department of Housing and Community Development (HCD) does not have authority to enforce violations of the MRL.
Senate Select Committee on Manufactured Home Communities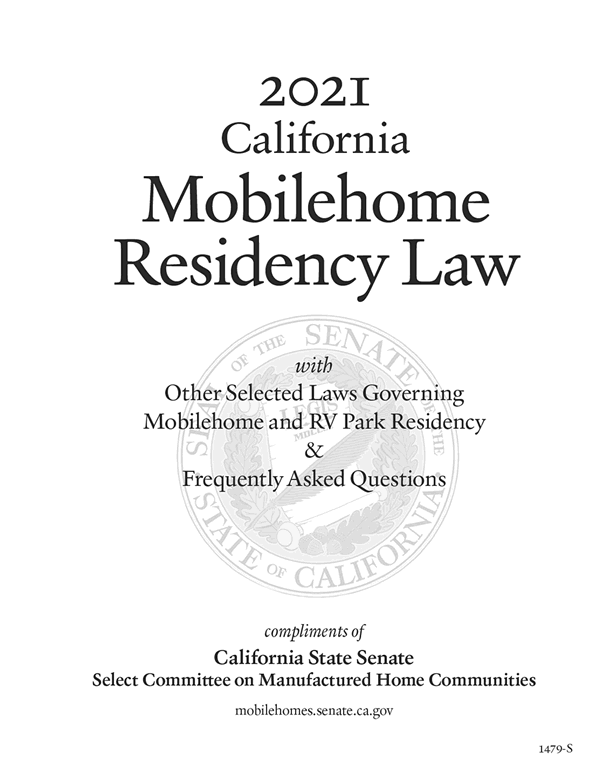 File Type: PDF
Pages: 139
Size: 2.0MB
From the 2021 MRL Introduction:
Note: Mobilehome Residency Law Protection Program (MRLPP). Beginning July 1, 2020, any mobilehome or manufactured homeowner living in a mobilehome park under a rental agreement may submit a complaint for an alleged violation of the Mobilehome Residency Law. Any mobilehome or manufactured homeowner residing in a permitted mobilehome park is eligible to submit a complaint. Complaints must be submitted to HCD. HCD provides assistance to help resolve and coordinate resolution of the most severe alleged violations of the Mobilehome Residency Law. For questions regarding the MRLPP please call 1-800-952-8356, email MRLComplaint@HCD.CA.gov or visit https://www.HCD.CA.gov/.

For the 2021 edition, there are two significant legislation changes that affect the MRL. AB 2782 (CIV 798.17 and 798.56) sets a minimum standard at the local government level for the sale or conversion of a mobilehome park (See FAQ #25). AB 3088 (CIV 798.56) creates eviction protections for renters and mobilehome residents. AB 3088 was signed into law as an urgency measure on August 31, 2020; however, the law expires February 1, 2021. The Legislature is currently reviewing new legislation on this subject matter.
Wed, Jan 20, 2021 – A Stockton-based manufactured home operator plans to convert the Garlic Farm RV Park into a "tiny home" community over the next few years. Harmony Communities purchased the park at 5878 Garlic Farms Drive for $9 million, documents filed on Jan. 6 with Santa Clara County show.
According to the company, the 158-space park will be gradually converted into 400-square-foot homes over the next three years, with the first set expected in early 2021.
This conversion will bring the largest influx of affordable homes the area has seen in the last 20 years," said Matthew Davies, Harmony Communities' president and founder. "We're providing affordable housing for more than 100 families in an area where the median home price is over $800,000.
The homes will start at $89,950, and many will have a loft to help maximize the space, according to Harmony Communities.
Current residents will not be asked to leave, according to the company, and they will be given first opportunity to upgrade. Homes will be built as vacancies occur, the company stated, which is expected to take three years based on historical occupancy trends for the Garlic Farm RV Park.
RE: Pacific Current Partners, Star Management
Thu, Jan 14, 2021 – Last summer, Bob Franco's curiosity was sparked by a land surveyor at the Sandpiper Mobile Home Village, where he resides. Franco and a small group of Sandpiper homeowners, including Kathy Mattes, president of the Sandpiper Chapter of the Golden State Manufactured Homeowners League (GSMOL), began to dig, and soon discovered that the property, which consisted of two parcels, was in escrow with a mystery buyer.
The news was contentious for the Sandpiper Homeowners Association (SHA) which had not been notified that the property was for sale, despite annual requests to allow first right of refusal to the homeowners – who had hoped to have the opportunity to explore purchasing the land in a nonprofit structure.
On Dec. 16, escrow closed on the two parcels. The property at 3950 Via Real, owned by roughly 13 people, sold for $11,890,000; and Patrick Wilson sold 1315 Cravens Lane for $8 million. Both sales were to PCP Sandpiper LP, the new owner of the 37-acre property known as Sandpiper Mobile Home Village and the land that lies beneath its 280 homes.
PCP Sandpiper LP was formed on Nov. 25, 2020 by the parent company Pacific Current Partners (PCP), a San Francisco-based firm that owns numerous (some 20) mobile home parks in California and beyond, including two parks in Santa Barbara.
Anne Anderson, Chapter President of GSMOL offered the following statement: "I think folks (at Sandpiper) are in better shape than the people at Flamingo. PCP/STAR Management wants to convert Flamingo to all-age. (Sandpiper is) already all-age. PCP/STAR Management wants to stop the Flamingo residents from restoring vacancy control to their rent stabilization ordinance. Sandpiper already has it. In fact, Carpinteria has the best RSO in Santa Barbara County. You do have one thing in common – a good relationship with your city government.
RE: Carson, California – Park Avalon Mobile Estates
Wed, Jan 13, 2021 – Some mobile home park residents are living in fear of losing their homes, as the Park Avalon Mobile Estates owner submitted plans with the city to potentially close the park for a mixed-use development in the future.
Kathy Talarico is one of more than 100 mobile home residents in the park. "We own our mobile for 33 years," she said. "I don't want it to go down the drain.
Talarico and her husband both have health issues and are living on a fixed income. Throughout the years, they've spent their lifesavings to own their mobile home. The current offerings to buy out residents living within the park, like Talarico, shared that the amount wouldn't be enough to put a down payment on finding a new place to live.
They want to give us $6,000, $20,000, $50,000 for our mobile? We've got to live out there. If they want us to move, they should buy us another mobile home somewhere," Talarico said.
There are more than 100 mobile home owners within the park like the Talaricos trying to figure out what the future holds if the city of Carson approves the closure. Martin Cervantes, president of Park Avalon Mobile Estate's Home Owner Association, has been living in the park for five years. Cervantes shared that most residents are being offered only about 40% of their homes' value.
The potential closure comes on the heels of another nearby mobile home park that was recently approved by the city to close. Julie Lopez, a partner with Tatro & Lopez, believes a new law that went into effect on New Year's Day could bring added protections for mobile home owners facing park closures this year.
RE: Hometown America
Tue, Jan 5, 2021 – The 244-site Foxwood Village community changed hands for the first time in almost two decades.
Hometown America has acquired Foxwood Village in Calverton, N.Y., for $16.8 million, Riverhead Local reported. Local investor Foxwood Corp. sold the 244-site community after more almost two decades of ownership, county records show.
Located at 1407 Middle Road, the property is some 2 miles from big-box stores such as Walmart and Costco, as well as other retail and dining options. Additionally, the asset is less than 4 miles from the Long Island Expressway, roughly 5 miles of several golf courses, and almost 10 miles from Francis S. Gabreski Airport. Completed in 1985, the over 55 manufactured housing community includes common-area amenities such as two bocceball courts, a ballroom, a library, a pool, a craft room, a lounge and a bingo room.
At the beginning of December, Hometown America received an $18 million Fannie Mae loan for Eden Roc in Hayward, Calif. A JLL team originated the 10-year debt for the 200-site manufactured housing community.
MRL Protection Program
Thu, Jul 2, 2020 – The California Department of Housing and Community Development (HCD) is pleased to announce the Mobilehome Assistance Center is now accepting complaints from mobilehome / manufactured homeowners for issues within mobilehome parks related to Mobilehome Residency Law violations.
Any mobilehome / manufactured homeowner who lives in a mobilehome park.
What Types of Complaints can be Submitted for Consideration?
Any complaints for issues within mobilehome parks related to Mobilehome Residency Law violations (California Civil Code).
Common violations include illegal grounds for eviction, failure to provide proper notice of rent increases, or no written rental agreement between the park and mobilehome owner.
How Does a Mobilehome/Manufactured Homeowner Submit their Complaint?
Complaints must be submitted to HCD. HCD provides help to resolve and coordinate resolution of the most-severe alleged violations of the Mobilehome Residency Law. Visit the Submit a Complaint webpage for details.
Stop Predatory Park Owners
Fri, Nov 22, 2019 – Kabateck LLP attorneys representing hundreds of low-income mobile home residents in Long Beach, California secured a nearly $57 million settlement, which is the largest settlement ever involving a mobile home park.
KSFG Lawsuits
Civil Lawsuits Against Kort & Scott DBAs