Mobile Home Owner News – January 2022
Resident curated mobile home owners news and information for residents of Mobile Home Parks owned by Kort & Scott (KS) companies. The MHPHOA also provides news coverage for Mobile Home Parks not owned by KS companies.
Click/tap the story headlines to open a link to the full original story and/or media such as streaming video from City Council Meetings. Story headlines with are inline news stories.
Clicking or tapping links with a caret (kar-it, carrot) will expand/show additional content and change to to collapse/hide content. Content that is collapsed/hidden will not print.
---
Get Your Security Deposits Refunded After One Year
RE: All California Mobile Home Parks
Fri, Jan 28, 2022 – From the 2022 California Mobilehome Residency Law Frequently Asked Questions: Rents, Fees and Taxes, 6. Security Deposit
Resident Question: Can the park charge first and last months' rent plus a 2-month security deposit?

MRL Answer: Normally, when a mobilehome owner is accepted for residency in a mobilehome park and signs a rental agreement, charging first month's rent and a 2-month security deposit are permitted. (Civil Code §798.39) After one full year of satisfactory residency (meaning all rent and fees have been paid during that time), the resident is entitled to request a refund of the 2-month security deposit, or may request a refund at the time he or she vacates the park and sells the home. (Civil Code §798.39(b))
2022 California MRL FAQs
Submit your request for a security deposit refund in writing to park management today. The MRL specifically states that park management must refund your deposit after one full year of satisfactory residency if requested in writing.
Do not wait until you vacate the park and/or sell your mobile home.
Wed, Jan 26, 2022 – The Rancho Estates Mobile Home Park became a battleground over the theory that rent control was a "taking" of land, an argument by the property owner that the Ninth Circuit Court rejected in 2010 and that the Supreme Court subsequently refused to consider, essentially upholding rent control nationwide. The City of Goleta mobile home park was sold in November 2021, raising fears that tenancy of renters at the iconic property was once again threatened.
After the former owners – a trust formed by Dan and Susan Guggenheim – were forced to obey the rent control rules, they decided instead to subdivide the property under California's condominium conversion rules, a right they won in a second lawsuit in 2012. But any subdivision sales are limited in a development agreement the Guggenheims reached with the City of Goleta.
The new buyer intends to proceed with the condo development, said city spokesperson Kelly Hoover, and is keeping the former attorneys and management in place. Susy Forbath, a spokesperson for the property's attorneys, stated the new owners, a Southern California investment group, would encourage resident ownership of the divided lots. "Park residents, and only park residents, will have the right to purchase the lot beneath their homes at a discounted price and with certain financing assistance from ownership," she said.
Mon, Jan 24, 2022 – This bill would require the Department of Housing and Community Development, by January 1, 2024, to adopt regulations to require each person employed or acting under contract as an onsite manager or assistant manager, or otherwise acting in an onsite or offsite managerial capacity or role, on behalf of a mobilehome park, special occupancy park, or recreational vehicle park to receive appropriate training of at least 18 hours during the initial year and an unspecified number of hours of followup training each year thereafter on rules and regulations for the park, among other matters.
This bill would require the department to offer the training in an online format, would authorize the training to be offered in other formats, and would authorize the department to consult with the Department of Consumer Affairs in offering the training. The bill would also require the department to develop a system for performing up-to-date background checks of each person subject to the training requirements, would authorize the department to consult with the Department of Consumer Affairs in developing this system, and would authorize the department to contract with a third party to perform the background checks. The bill would require the department, upon a person's satisfactory completion of the training and the examination, and upon meeting the other requirements, to issue the person a certificate of completion, and would establish a process for renewing the certificate.
This bill would establish the Mobilehome Park, Special Occupancy, and Recreational Vehicle Training Fund within the State Treasury to receive all moneys derived under the bill's provisions and moneys in the fund would be available, upon appropriation by the Legislature, to the Department of Housing and Community Development, for the purpose of carrying out these provisions, as described. The bill would also authorize the department to establish, by regulation, a fee-based structure, not to exceed the department's reasonable costs in administering these provisions, and would set forth billing and payment procedures.
This bill would require the management of each mobilehome park to post a copy of the certificate issued to it by the department in a conspicuous location onsite, as specified. The bill would authorize the department, if management of a park is out of compliance with these requirements, to impose a civil penalty in an unspecified amount and suspend the management's permit to operate, upon first providing adequate notice and an opportunity to be heard in accordance with certain procedural requirements.
Fri, Jan 21, 2022 – State lawmakers from Northern Colorado, dismayed by changes in local mobile home parks, are proposing a sweeping new bill that would include the first statewide mandate for rent stabilization, which is similar to rent control.
The bill would cap rent hikes on mobile home lots each year. It's a response, the sponsors say, to the influx of wealthy investors who are buying mobile home parks and rapidly boosting rents as an easy source of revenue.
We've got large out-of-state investors and private equity firms buying up homes in Colorado because of the amount of cash flow that those homes offer and the equity they can build up very quickly through expensive rent increases.
Under the initial proposal, landlords could only raise rent by up to 3 percent per year. Those kinds of legal limits on rent increases are practically unheard of in Colorado, especially on a statewide basis.
Statehouse lawmakers have shown growing concern for mobile home residents in recent years. If the new bill passes – which could be an uphill fight – it would represent the biggest change yet to come from that effort.
Thu, Jan 20, 2022 – The MHPHOA online version of the 2022 California Mobilehome Residency Law in HTML has been updated to reflect all changes indicated below.
From the Senate Select Committee on Manufactured Home Communities:
Division 2, Part 2, Chap. 2.5 of the Civil Code. The Mobilehome Residency Law (MRL) is the "landlord-tenant law" for mobilehome parks, which, like landlord-tenant law and other Civil Code provisions, are enforced in a court of law. The Department of Housing and Community Development (HCD) does not have authority to enforce violations of the MRL.
Senate Select Committee on Manufactured Home Communities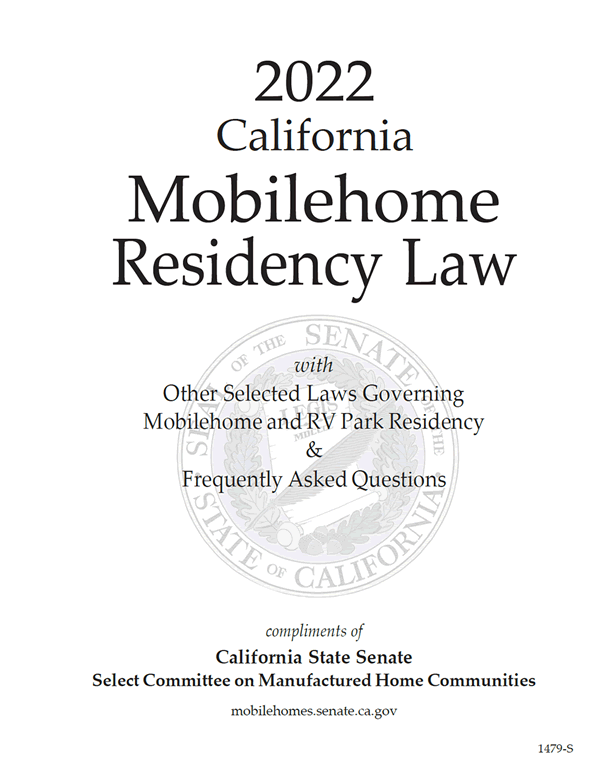 File Type: PDF
Pages: 148
Size: 2.5MB
From the 2022 MRL Introduction:
Note: Mobilehome Residency Law Protection Program (MRLPP). Beginning July 1, 2021, any mobilehome or manufactured homeowner living in a mobilehome park under a rental agreement may submit a complaint for an alleged violation of the Mobilehome Residency Law. Any mobilehome or manufactured homeowner residing in a permitted mobilehome park is eligible to submit a complaint. Complaints must be submitted to HCD. HCD provides assistance to help resolve and coordinate resolution of the most severe alleged violations of the Mobilehome Residency Law. For questions regarding the MRLPP please call 1-800-952-8356, email MRLComplaint@HCD.CA.gov or visit https://www.HCD.CA.gov/.

For the 2022 edition, there are significant legislation changes that affect the MRL. AB 861 (CIV 798.23) requires mobilehome park management to comply with any park rule or regulation prohibiting mobilehome owners from renting or subleasing unless renting or subleasing to an employee. AB 978 (CIV 798.30.5) set specific restrictions for mobilehome parks located between two incorporated cities. AB 1061 (CIV 798.40) sets specific requirements for mobilehome parks that have individual water submeters to bill for water. AB 1584 (CIV 798.56) clarifies a manufactured home can be considered an ADU if it meets specified requirements.
RE: Pacific Current Partners, Star Management
Wed, Jan 19, 2022 – The Santa Barbara Tenants Union orchestrated a meeting Monday, January 17, between a property manager and tenants of the Tropical Gardens Residential Community, a trailer park on the Eastside, to discuss complaints about severe cases of black mold and other uninhabitable conditions. The trailers have less than 500 square feet of living space, and occupants range from a single person to families with children.
Cirillo claimed property owner Pacific Current Partners only became aware of the conditions of the trailers on Friday, January 14, the day after the Tenants Union emailed the list of complaints, also claiming the issues stemmed from before the property was bought by the current owner.
After the union was contacted by Medina, seven other tenants came to them with similar complaints. The majority of Tropical Gardens residents are Spanish-speaking, according to David Herrera, campaign leader of the union, who translated at the meeting, which makes it difficult for them to find the necessary resources or help.
The trailers rent for anywhere between $1,300 and $1,800, plus electricity, which runs between $75 and $100. Rents have been raised despite no repairs being made, and claims have been made that the "onsite manager neglects repairs, uses racial slurs, yells, and engages in other forms of verbal abuse against tenants when they verbally report complaints related to habitability onsite," as outlined in the unions' detailed letter to Pacific Current Partners on January 13, which was also sent to the Santa Barbara City Council, City Attorney Ariel Calonne, city assistant prosecutor Denny Wei, and members of the Housing Authority of Santa Barbara and United Way.
The Tenants Union will be conducting an inventory of the damage of each trailer over the coming weeks, to assess the level of repairs necessary. All those with mold will most likely have to be relocated, Herrera said, as the damage is too deep to repair.
Mon, Jan 17, 2022 – FeganScott Announces Investigation into Equity LifeStyle Properties for Widespread, Chronic Neglect of Mobile Home Properties across U.S.
Today consumer-rights law firm FeganScott announced it is broadening its investigation of Equity LifeStyle Properties (ELS) (NYSE:ELS) to include other mobile home properties owned and operated by ELS across 33 states.
FeganScott filed a class-action lawsuit earlier this month in the Southern District of Florida, alleging that ELS and the operator of the Heritage Plantation mobile home park in Vero Beach, a subsidiary of ELS, have failed to maintain the park's stormwater drainage system, leaving residents to deal with frequent flooding, mud, slip and fall injuries, and damaged mobile homes and cars, in dereliction of their duties as mobile home park operators and owners.
Since we filed our complaint on behalf of the residents in Vero Beach, we've learned that this might not be an issue limited to this one property but could be a systemic issue with ELS properties across the state of Florida and in other states as well, said Elizabeth Fegan, founding partner and managing member of FeganScott and lead attorney representing the residents.
Fri, Jan 14, 2022 – On another split vote after a heated debate, Pico Rivera City Council on Tuesday, Jan. 11 gave final approval to a rent-control ordinance for the city's six mobile home parks.
The ordinance, which will take effect on Feb. 10, will restrict rent increases to no more than 3% and roll them back to levels of Oct. 13, 2020.
The ordinance also will create a registry of mobile home park spaces, and establish a base rent. It also would set up a process to allow mobile home park owners to petition and demonstrate to the city that the annual rent increase does not allow for a reasonable profit on their investment.
The ordinance, approved on the same 3-2 vote as in the first reading in December, will affect only an estimated 250 of the 405 mobile home owners in the city.
Under state law, the law only applies to mobile home owners under month-to-month leases or if the lease was entered on or after Feb. 13, 2022. The rest will have to wait until Jan. 1, 2025 when the city's proposed law would take effect.
Note: GSMOL Zone C Vice President Mary Jo Baretich and other GSMOL leaders participated in this effort, funded by a grant provided to GSMOL's partner nonprofit GSMOEF by the Catholic Campaign for Human Development.