Mobile Home Owner News – April 2023
Resident curated mobile home owners news and information for residents of Mobile Home Parks owned by Kort & Scott (KS) companies. The MHPHOA also provides news coverage for Mobile Home Parks not owned by KS companies.
Click/tap the story headlines to open a link to the full original story and/or media such as streaming video from City Council Meetings. Story headlines with are inline news stories.
Clicking or tapping links with a caret (kar-it, carrot) will expand/show additional content and change to to collapse/hide content. Content that is collapsed/hidden will not print.
---
RE: California / Assembly Bill 1035
Wed, Apr 26, 2023 – A bill that would cap mobile home space rents has hit a legislative roadblock in Sacramento.
Assemblyman Al Muratsuchi, D-Torrance, had launched legislation that would cap mobile home space rents to no higher than 5 percent a year, the Orange County Register reported.
But the bill hit headwinds when a committee decided not to hear the bill because of pending litigation.
Assembly Bill 1035 would have limited mobile home space rents from increasing more than 3 percent plus the percentage of change in cost of living, or 5 percent a year, whichever is lower.
It would not preempt any local ordinance with even stronger protections for renters, Muratsuchi said. It aims to protect lower-income residents and seniors on fixed incomes from losing their mobile homes as rents across the state skyrocket.
The bill, however, was put on hold because of a lawsuit by Anaheim Mobile Estates challenging a new state law that imposed rent restrictions on mobile home parks located within at least two cities. The litigation could impact Muratsuchi's bill.
RE: California / Assembly Bill 1035
Wed, Feb 15, 2023 – Introduced by Assembly Member Muratsuchi, Assembly Bill 1035, an act to add Section 798.30.7 to the Civil Code, relating to mobilehomes.
Existing law, the Mobilehome Residency Law, prescribes various terms and conditions of tenancies in mobilehome parks. Existing law defines "tenancy" for these purposes as the right of a homeowner to use a site within a mobilehome park on which to locate, maintain, and occupy a mobilehome for human habitation, including the use of the services and facilities of the park. Existing law, prohibits, with certain exceptions, the management of a mobilehome park from increasing the gross rental rate for a tenancy in a qualified mobilehome park, as defined, more than 3% plus the percentage change in the cost of living, or 5%, whichever is lower, of the lowest gross rental rate charged for a tenancy at any time during the 12 months prior to the effective date of the increase, subject to specified conditions. Existing law defines "qualified mobilehome park" for these purposes as a mobilehome park that is located within and governed by the jurisdictions of 2 or more incorporated cities.
This bill would prohibit the management of a mobilehome park from increasing the gross rental rate for a tenancy for a mobilehome space more than 3% plus the percentage change in the cost of living, as defined, over the course of any 12-month period, as specified. The bill would prohibit management from increasing the gross rental rate for a tenancy in more than 2 increments over a 12-month period, after the tenant maintains the tenancy over a 12-month period. The bill would prohibit management from imposing an increase in rent on a prospective purchaser or homeowner that purchases a mobilehome if the purchase qualifies as an in-place transfer, as specified. The bill would exempt specified mobilehome spaces from these provisions. The bill would specify that these provisions apply to rent increases for mobilehome spaces occurring on or after January 1, 2023. The bill would provide that in the event that management increased the rent by more than the amount specified above between January 1, 2023, and January 1, 2024, then the applicable rent on January 1, 2024, is the rent as of January 1, 2023, plus the maximum permissible increase, and that management is not liable to the homeowner for any corresponding rent overpayment. The bill would void any waiver of the rights provided under these provisions. The bill would authorize a local government to adopt or maintain an ordinance, rule, regulation, or initiative measure that establishes a maximum amount that may be charged for rent, or other regulations for a tenancy. The bill would not apply to a mobilehome park when a local government has adopted an ordinance, rule, regulation, or initiative measure prior to the effective date of the bill that establishes a maximum amount that may be charged by management for rent or otherwise regulates the rental rate for a mobilehome tenancy.
This bill would state that its provisions are severable.
AB-1035 Mobilehome Parks: Rent Caps (2023-2024)
RE: South Minneapolis, Minnesota / Investment Property Group
Tue, Apr 25, 2023 – Minnesota Attorney General Keith Ellison announced today that his Office has opened a civil investigation into whether Investment Property Group UT (IPG) has collected or attempted to collect illegal utility charges from their residents at its Greenway Apartments complex in South Minneapolis and whether it sought to evict the largely-Somali tenants based on these faulty charges.
In late 2022, Greenway Apartments notified its tenants that they would be charged for utilities separately from their rent starting in 2023, charges which would be administered by a third-party billing company. Soon after the announcement, tenants found themselves facing exorbitant utility charges, some of which totaled more than $2,000. Last week, Isuroon, a local nonprofit that advocates for Somali women and girls, reported to the Attorney General's Office that numerous Somali tenants at the Greenway Apartments had already paid thousands of dollars in questionable utility charges out of fear of being evicted, and that others were being evicted for not paying the charges. IPG, doing business as Eat Street Portfolio, LLC, has filed more than 30 eviction actions since February 2023.
After the Attorney General's Office contacted IPG last week about its concerns that the eviction filings appear unlawful, IPG represented that it will not take any action to remove any Greenway Apartments tenants while the Attorney General's investigation is pending, even if the court issued a writ of recovery in a case. Minnesota law allows Greenway Apartments tenants to stay in their home during an eviction case unless a Sheriff serves a writ of recovery on the tenant and tells the tenant to leave.
Attorney General Ellison's investigation includes what steps Greenway Apartments and IPG have taken, if any, to comply with Minnesota's landlord-tenant laws as well as whether the associated eviction filings are racially motivated, which the Minnesota Human Rights Act prohibits.
The Attorney General's Office asks that anyone with information about Greenway Apartments or other IPG locations, especially tenants, also contact the Office. The Office can be reached by calling (651) 296-3353 or by filling out a tenant report form online in English, Spanish, or Somali.
RE: California / Homelessness Prevention Act / Senate Bill 567
Mon, Apr 24, 2023 – Many local activists are looking to two Orange County state senators for leadership in a key upcoming vote on a proposal to expand an existing 2019 statewide rent control law – further capping rents at 5% increases to combat the state's unaffordable housing crisis.
At the same time, apartment owner advocates are looking at these legislators with a very different outcome in mind.
But state Senators Tom Umberg and Dave Min aren't talking.
The local focus on Umberg and Min comes as calls for rent control have swept through the county, with community groups and activists pushing to maintain a momentum that started with a local rent cap approved in Santa Ana two years ago, while local city councils and residents grapple with inflation, rising rents and stagnating wages.
Groups like Orange County's apartment association, which is currently suing Santa Ana over the city's rent control law, are already seeing problems with the new proposed legislation.
Dubbed the Homelessness Prevention Act, Senate Bill 567 is slated for a state Senate Judiciary Committee vote on April 25, where Senators Dave Min and Tom Umberg sit.
RE: Oceanside, California
Thu, Apr 20, 2023 – The city is considering waiving registration fees to ease rising cost burdens on mobile home park owners and residents.
While mobile home park owners are required to pay the fee, they can pass on half of that fee to park residents. The collected fees go toward a fund that helps the city pay to administer Chapter 16B of its municipal code, also known as the Manufactured Homes Fair Practices ordinance.
First formed in the 1980s, the ordinance provides a rent control element that caps rent increases for only mobile home parks in the city and ensures park owners receive a fair profit. Oceanside is one of the few cities in the region with a rent control ordinance for mobile home parks. There are currently 17 mobile home parks in Oceanside that lease spaces to owners of mobile or manufactured homes.
The city's Manufactured Homes Fair Practices Commission is the quasi-judicial body that approves rent increases following Chapter 16B rules.
The registration fees are also used to pay consultants, attorneys and other costs associated with special hearings, like a recent rent increase request for Laguna Vista Estates Mobile Home Park, a senior-restricted park.
RE: Fresno, California / La Hacienda Mobile Estates / Harmony Communities
Thu, Apr 20, 2023 – Several residents of La Hacienda Mobile Home Estates are fighting potential evictions, filing a lawsuit to prevent the landlord from kicking them out.
Forming the Hacienda Homeowners for Justice group, nine families living at the north Fresno park filed a lawsuit Wednesday, asking a judge to prevent Harmony Communities' eviction practices.
The families are represented by Mariah C. Thompson and Marisol F. Aguilar of California Rural Legal Assistance Inc., a nonprofit law firm.
Harmony purchased the park in October 2022 for $1.4 million, the lawsuit states. Several residents – who are not already under eviction proceedings – received a 12-month eviction notice. Harmony said it is closing the park and intends to sell.
Other tenants received five-day or seven-day notices to vacate. The lawsuit states that Stockton-based Harmony did not follow proper eviction law. The residents are asking a judge for a preliminary and permanent injunction from enforcing the eviction notices. The lawsuit also wants Harmony to be penalized $2,000 per violation as the law allows.
RE: Fresno, California / La Hacienda Mobile Estates / Harmony Communities
Tue, Apr 18, 2023 – A north Fresno mobile home park is set to close within 12 months, with several residents receiving new eviction notices last week.
Harmony Communities sent the notice to several renters demanding they leave the park within the next year. Some residents did not receive the new notice because they are already fighting the landlord on existing eviction notices.
The notice reads: 'La Hacienda Mobile Estates, LLC… is exercising its right to terminate your tenancy for the purpose of permanently closing the Park.'
The land at 104 E. Sierra Avenue used to be zoned for a trailer park. It is now zoned as "CMX," corridor/center mixed-use. It is unclear when the land was rezoned.
Tue, Dec 27, 2022 – A Fresno mobile home park which saw some of the city's worst living conditions after years of neglect is now under new ownership. But residents still have questions about their future at the park.
The conditions at the park were dire enough to force the City of Fresno to take over enforcement of all mobile home parks. The California Department of Housing and Community Development typically has full control of mobile homes.
A court-appointed receiver later listed the property for sale and in October, it was officially handed over to Harmony Communities – a Stockton-based company that manages more than 30 parks across California, Nevada and Oregon.
Fri, May 20, 2022 – A judge has authorized the sale of a local mobile home park at the center of an affordable housing battle to a national corporate landlord, dealing a blow to residents, lawyers and housing advocates who had hoped their bid for a cooperative – in which tenants each own a piece of the property – could become a model for a city short on housing solutions.
For months, residents of the Trails End Mobile Home Park feared a purchase from Harmony Communities, a Stockton-based mobile home operating company with 33 properties primarily in the West. Trails End marks its third property in the Fresno area. It has slowly grown into one of the larger mobile home-owning operators in the country, at times acquiring parks, renovating them and raising rents in the process.
Families living at the park, who traveled in a caravan of vehicles from their homes in the north part of the city, tightly packed four rows of wooden benches inside a downtown Fresno courtroom after weeks of anticipation, wearing stickers with the number of their mobile home on their chests. The night before, they had met with local housing advocates, as they had nightly for several weeks, preparing for one of two scenarios: convincing the judge of their ownership plan, or walking away with new landlords and considering what options, if any, they had left. After a roughly 30-minute discussion among attorneys for the park owners, the city and the tenants, Judge Kristi Culver Kapetan determined she would approve the sale to Harmony Communities, prompting an eruption of tears and frustration from those who had tried to put together an alternative purchase.
Tue, May 10, 2022 – A disappointed crowd of Trails End residents and supporters left the Fresno County Superior Courthouse Tuesday afternoon after a judge allowed for the sale of their mobile home park to Harmony Communities.
Trails End suffered two fires in April and June of last year. Five homes were destroyed and one person died.
Trails End has been under receivership, which means a third party took control from the current owners. The receiver, Mark Adams, has been working to make necessary safety improvements in preparation for the sale of the mobile home park to Harmony.
People living at Trails End were hoping to purchase the park themselves through a co-op, but the group helping them was not able to put together a viable offer in the eyes of the court.
Wed, Nov 18, 2021 – A deadly fire at the Trails End Mobile Home Park in April spurred Fresno government leaders into taking over code enforcement responsibilities at all mobile home parks in the city. Here's a timeline of the Trails End Mobile Home Park case and what will happen next:
Tue, Nov 17, 2021 – After being neglected for years, the Trails End Mobile Home Park, the site of a deadly fire in April and June, is now in the hands of a court-appointed receiver.
The California Receivership Group – based in Santa Monica – was appointed by the Fresno County Superior Court on Nov. 10 to "abate the dangerous substandard and nuisance conditions" at the mobile home park, located on Sierra Avenue off of Blackstone Avenue.
Our goal, under the judge's order of appointing us, is to make this place safe and habitable for the people who live here, said Mark Adams, president and CEO of the receivership group, during an inspection of the mobile home park on Tuesday. The purpose of today is just to get a sense of what's going on.
Thu, Sep 9, 2021 – Just this year, two fires at the park located near Blackstone and Sierra, have injured a handful of people, killed one man, and destroyed five trailers.
The city plans to file a petition in the next couple of weeks with the Fresno County Superior Court to get a receiver, which is essentially a third party would be in charge of making sure the park gets cleaned up and to code.
At the end of April, 56-year-old Ronald Richardson died at Trails End. While covering the fire, our station uncovered a suspension of the park's operating permit due to health and safety violations dating all the way back to July of 2020.
Tue, May 18, 2021 – Fresno officials are making plans to take charge of enforcing habitability conditions at mobile home parks within the city's boundaries following a fatal fire at a park operating with a suspended license.
Councilmember Garry Bredefeld, representative of District 6 where Trails End Mobile Home park is located, and Mayor Jerry Dyer will introduce an ordinance to City Council on May 27 to have the city take control of enforcement at local mobile home parks which are currently under state jurisdiction. They also intend to ask for state approval.
Bredefeld said if mobile home parks were under city control, the communication breakdown like what occurred between the state and city in Trails End could be avoided.
– Cassandra Garibay, The Fresno Bee
Thu, May 13, 2021 – After one person died two weeks ago in a fire at a Fresno mobile home park that was operating with a suspended permit Fresno city officials proposed the city take over the authority of the parks from the state.
Councilmember Garry Bredefeld and Mayor Jerry Dyer brought forward an ordinance at the next council meeting that would move mobile home parks from the state's jurisdiction to the city.
Councilmember Garry Bredefeld believes the best way to address the safety concerns is for Fresno to take authority of it from the state.
– Mederios Babb, YourCentralValley.com
Fri, May 7, 2021 – It took a deadly fire that killed one person and destroyed two homes for the city of Fresno to become involved with a mobile home park whose license to operate had been suspended by the state three months prior.
Now the California Department of Housing and Community Development, which has enforcement jurisdiction over Fresno mobile home parks, and the city of Fresno are discussing how to bring the Trails End Mobile Home Park up to code or close it down.
Trails End, a 2.3-acre property with 60 spaces for mobile homes, is still in operation despite the suspended license, while the city of Fresno, the county and Department of Housing and Community Development (HCD) sort out which entity can legally abate or close down the park.
According to HCD Codes and Standards Deputy Director Kyle Krause, authorities suspended Trails End's permit to operate in January because of major habitability issues dating back to July 2020 which the mobile home operators failed to address, months after the deadline.
Trails End Mobile Home Park, the only of the 36 active mobile home parks in Fresno that is under suspension, was first built in 1970. It has been owned by trustee Joan Kevorkian since 2010. The permit required for the park's operation was suspended in January "due to violations that went uncorrected" for at least six months, Krause said.
– Cassandra Garibay, The Fresno Bee
RE: Carson, California
Wed, Apr 19, 2023 – Carson will create a mobile home park overlay district, adding an extra layer of protection to preserve what some residents have called their last bastion of affordable housing options. The City Council approved the overlay district this week.
Essentially, only mobile home parks will be allowed in that district. If property owners within that area want to redevelop a piece of land on which a mobile home park sits, they will have to apply for and receive a zoning change from the city, and provide a comparable number of affordable housing units for the residents there.
The City Council wants to put a zone in place, an overlay zone, so if there's a park owner that wants to close the park from a land use perspective, City Attorney Sunny Soltani, (the council) will have more discretion.
Carson has one of the most stringent mobile home rent control laws in the state, according to a staff report. This has resulted in a lengthy series of lawsuits with mobile home park owners who wanted to capitalize on their investments by increasing rents or converting their land uses to get around state and local rent-control laws.
The city's latest legal contender was the owner of Rancho Dominguez, a 5.74-acre, 81 space, all-age community mobile home park in an industrial area. The property owner had wanted to close the park and develop it into apartments.
RE: Fannie Mae / Freddie Mac
Sun, Apr 16, 2023 – Low-interest loans supported by Fannie Mae and Freddie Mac have fueled a spree of acquisitions of mobile home parks where new owners drive up costs for longtime residents.
WASHINGTON – It wasn't long after residents of a mobile home senior community in Ohio were told that their property had been bought by a new owner, with the help of financing from federally backed Freddie Mac, that their costs started going up.
Adding to residents' frustration over the rising costs is who helped finance the sale of the property to Legacy Communities LLC, which runs dozens of mobile home parks across the country. The loan for the acquisition was financed by Freddie Mac – a government-sponsored enterprise that has been mandated to help support housing for low-income Americans since it was taken over by the federal government during the 2008 housing crisis.
But rather than preserving one of the last bastions of affordable housing, the role that Freddie Mac and its peer Fannie Mae have played in the market has done the opposite in some instances, affordable housing advocates and lawmakers say. They say the access to relatively cheap, low-risk capital provided by the federally backed entities has contributed to a surge in mobile home park acquisitions where new owners are raising rents and fees.
Fannie and Freddie have added fuel to the fire. There's just no question, said Paul Bradley, president of ROC USA, which helps residents finance the purchase of their communities. This competition to provide the lowest cost loans to park investors and their grab for market share helped fuel this.
RE: Huntington Beach, California / HBMHRC
Thu, Apr 13, 2023 – Mobile home residents in Huntington Beach, who say they have been feeling the heat for the last couple of years, are supporting a new bill that could ease some of their rent concerns.
Assembly Bill 1035 was introduced Feb. 15 by state Assemblyman Al Muratsuchi (D-Torrance), and is set to be reviewed by the Assembly Housing and Community Development Committee on Wednesday.
According to its text, the bill would enact the Mobile Home Affordability Act. It would prohibit the management of a mobile home park from increasing the gross rental rate for a tenancy for a space more than 3% plus the percentage change in the cost of living – or 5%, whichever is lower – over the course of any 12-month period.
AB 1035 would also prohibit management from increasing the gross rental rate for a tenancy in more than two increments over a 12-month period, after the tenant maintains the tenancy for a year.
RE: Capitola, California / Brookvale Terrace Mobile Home Park / Resident Owned Communities
Wed, Apr 12, 2023 – Brookvale Terrace Mobile Home Park in Capitola marks 30 years of resident ownership this April, and more than 50 years as a mobile home park. A potluck with residents on April 15 will celebrate the small community, its memories and the success of privately owning and managing a mobile home park.
Brookvale Terrace was constructed in the early 1970s by John Minges of Scotts Valley and his partners, according to The History of Noble Gulch and Brookvale Terrace Mobile Home Park, written by resident Stephanie Kirby.
In the intervening decades, increasing conflict over rent increases in Capitola led to rent stabilization ordinances and lawsuits with park owners. Abraham Keh bought the park in 1981, and battled with the residents and Capitola over rent and maintenance, as detailed by Kirby. In 1993, residents bought the 20-acre property for $6.8 million with the help of a bond established by Capitola and established the Brookvale Terrace Property Owners Association.
Today the park is overseen by a volunteer Board of Directors and is one of the county's most desirable mobile home parks. BrookvaleTerrace.com
RE: Malibu, California / Paradise Cove Mobile Home Park
Wed, Apr 12, 2023 – It's hard to image a celebrity living in a trailer park. But at the Paradise Cove Mobile Home Park, that's exactly the case.
In Malibu, California, stars like Sarah Paulson, Matthew McConaughey, and Stevie Nicks have bought properties in the park, where some trailers can sell for as much as $5 million, according to a new report in The Wall Street Journal. But the trend is changing the character of a community that's existed since the 1950s.
Across the trailer park, wealthy homeowners are buying up property and creating mini-mansions. Big-name architecture firms are tasked with drawing up the exteriors, while high-end interior designers curate the inside.
In just one example, a Marmol Radziner designed mobile home is currently listed for $4 million, while about 30 trailers have sold in the past three years for up to $5 million, according to Zillow data cited by The Wall Street Journal. Agents, however, have heard of off-market deals stretching to $7 million. On top of that, residents have to pay rent on their parcel of land, ranging from about $1,500 to $4,000 a month.
RE: Lakewood, Washington / Resident Owned Communities
Sat, Apr 8, 2023 – Portland, Oregon (AP) – When Gadiel Galvez learned that the owner of his mobile home park south of Seattle was looking to sell, he and other residents worried their largely Latino community would be bulldozed to make way for another Amazon warehouse.
So, they decided to form a cooperative and buy their park in Lakewood, Washington. With help from a nonprofit that advises communities like theirs and helps them secure loans, they bought it for $5.25 million. Since becoming owners in September, everyone's worked to make improvements.
With rents rising at mobile home parks nationwide, advocates tout the cooperative model as a way to preserve one of the last affordable housing options for people with low- or fixed-incomes and to give them a greater voice in managing their parks.
So far these resident-owned communities are proving to be a reliable option. None of the more than 300 in the network of nonprofit ROC USA have defaulted or closed. One decided to sell back to the county housing authority it originally purchased from.
They have a 100% track record of success, which tells you that it's working for the residents, said George McCarthy, president and CEO of the Lincoln Institute of Land Policy, a Cambridge, Massachusetts, think tank. Resident ownership is an absolute bulwark against the intrusion of institutional capital in the market.
RE: Wisconsin / MHP Funds LLC / Frank Rolfe / Dave Reynolds
Thu, Apr 6, 2023 – Wisconsin Attorney General Josh Kaul and Department of Agriculture, Trade and Consumer Protection Secretary Randy Romanski announced Thursday a $75,000 settlement agreement with Impact MHC Property Management, LLC (Impact), a Colorado-based operator of manufactured home communities (MHCs) in Wisconsin, and RV Horizons, Inc. (RV Horizons), for $75,000 and a series of compliance requirements.
Since 2018, the Wisconsin Department of Agriculture, Trade and Consumer Protection (DATCP) has received over 50 complaints from tenants at communities operated by RV Horizons or Impact. Most of these tenants own their own home and rent the lot from Impact (or formerly from RV Horizons); some rent both the home and the lot. DATCP's investigation determined RV Horizons and Impact violated laws that protect tenants in manufactured home communities from unfair rental practices, and DATCP referred these findings to the Wisconsin Department of Justice (DOJ), according to a written statement.
RV Horizons and Impact have agreed to a Consent Judgment that includes a permanent injunction prohibiting them from charging tenants a fee in return for allowing the movement of a manufactured home into or out from a community. The injunction stops enforcement of provisions in the companies' Wisconsin contracts that effectively imposed such fees. The judgment also includes a two-year compliance monitoring program. RV Horizons and Impact will refund $3,514.14 in overcharges of municipal fees to tenants identified during the State's investigation; conduct an audit of all tenant accounts going back to January 1, 2018, and credit the accounts of all current tenants with the amount of any overpayment; send a payment to any affected former tenants; and file a report with DATCP. The Consent Judgment includes a judgment for civil forfeiture and assessments of $75,000, and payment of the State's costs of $10,000. RV Horizons and Impact deny liability for the State's allegations, according to the statement.
RE: California
Mon, Feb 27, 2023 – The MHPHOA online version of the 2023 California Mobilehome Residency Law in HTML has been updated to reflect all changes indicated below.
From the Senate Select Committee on Manufactured Home Communities:
Division 2, Part 2, Chap. 2.5 of the Civil Code. The Mobilehome Residency Law (MRL) is the "landlord-tenant law" for mobilehome parks, which, like landlord-tenant law and other Civil Code provisions, are enforced in a court of law. The Department of Housing and Community Development (HCD) does not have authority to enforce violations of the MRL.
Senate Select Committee on Manufactured Home Communities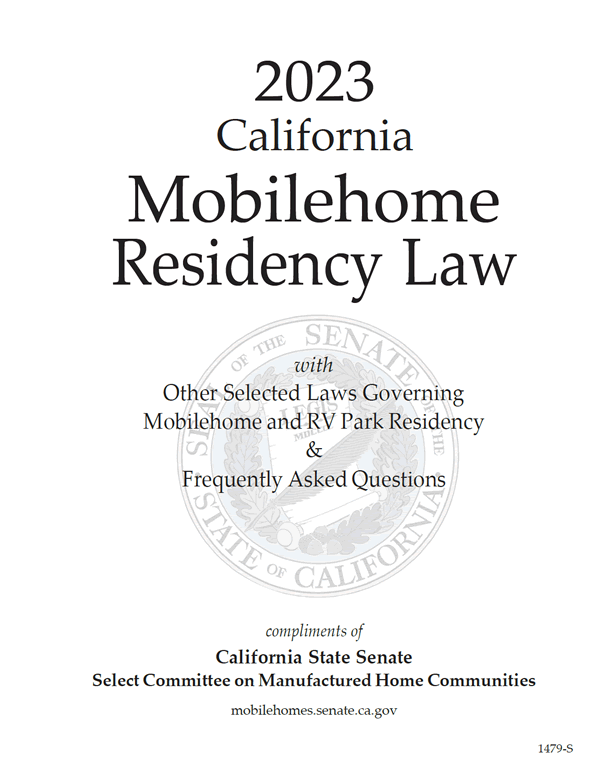 File Type: PDF
Pages: 145
Size: 2.1MB