Fri, May 20, 2016 – On Wednesday, May 18, 2016, the senior residents of Sierra Mobile Home Park (55+) in Santa Clarita, California (a KSFG MHP) were notified via letter that Sierra Corporate Management are going to be performing "space by space inspections" of their mobile home park, the letter reads...
---
Dear Resident,
This is to just inform you that we will be conducting space by space inspections, looking for clutter at each home site and checking your landscaping. Please make sure that your space is clean of all trash and have only patio related items outside. In regards to the landscaping, if your grass is dead, we are asking that you maintain all dead areas or replace with ground cover such as bark, rock or wood chips. The sooner this can be done the better. In the event your home site isn't in compliance at the time of inspection you will be issued a 7 or 14 day notice, in which at that time the park will charge you accordingly once your notice has expired.
We are asking that you work with us as we work with you to continue to keep the community neat, clean and orderly.
Should you have any questions or concerns, please feel free to contact the office during business hours, Monday through Friday, between 8:30 am and 5:00 pm.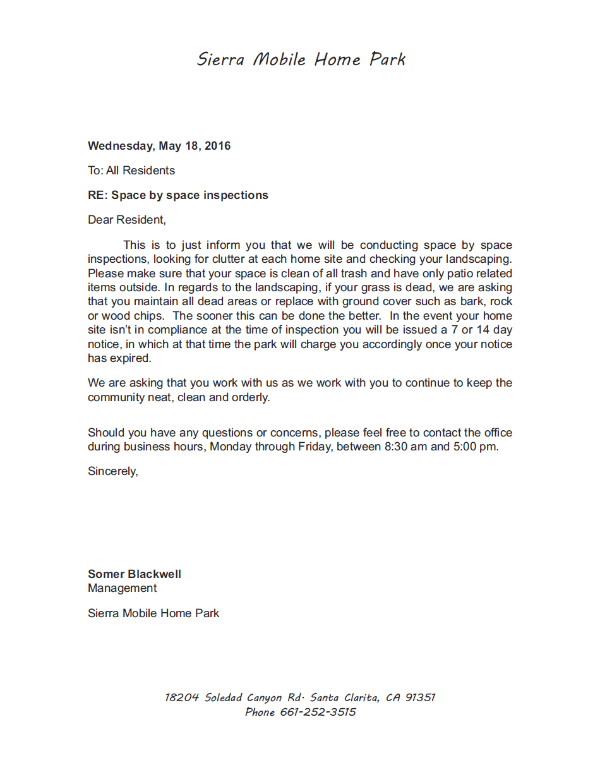 ---
KSFG purchased Sierra Mobile Home Park in October 2015. Since the purchase, the senior residents have been under continual duress. On Tuesday, January 26, 2016, the Santa Clarita City Council voted unanimously (5-0) to implement an urgency ordinance/moratorium to prevent KSFG from converting Sierra Mobile Home Park from a 55+ to a family park, this ordinance applies to all mobile home parks in the City of Santa Clarita. On Tuesday March 8, 2016, the City Council unanimously voted to extend the moratorium until January 25, 2017 at which time it will be reviewed again by City Council.
The seniors have been experiencing a multitude of issues that are prevalent in KSFG mobile home parks. Their billing statements have been incorrect. Their park has been violated by the Department of Housing and Community Development (HCD) in December 2015 for not having a manager on site (Health and Safety Code §18603). They've lost services. They have no sense of security, their video cameras were removed when KSFG purchased the park.
We have been informed that Sierra Corporate Management will subject residents to a variety of predatory business practices with the 7 and 14 day notices being one of the primary methods. The seniors are now in a situation where they will be forced to perform maintenance on their homes and lots that many may not be able to afford. This is the first phase of creating financial hardships for the home owners. This first notice is a courtesy notice. The next notice(s) will be 7 and/or 14 day notice(s) to comply with rules and regulations and will be multiple pages, read like a civil lawsuit complaint, and will cause fear and stress amongst many of the residents.
We've spoken to the HOA (Senior Homeowners In Trouble) and we are monitoring the situation. We will continue to consult with the residents, they are doing everything they can to abate any mobile home and lot issues that may be considered violations of the existing rules and regulations. Local organizations are being contacted for assistance. The Santa Clarita City Council is being kept aware of the ongoing harassment of the residents by Sierra Corporate Management and its staff.
In response to the "space by space inspections", the MHPHOA.com are going to provide the residents with instructions on how to inspect their mobile home park common areas and infrastructure. We will assist the residents in submitting mobile home park complaints online to the Department of Housing and Community Development (HCD) using information from the MPM-PI Violation Booklet, CCR Title 25, 2016 Mobilehome Residency Law (MRL) and other applicable laws.
As a home owner, you should never have to live under these types of predatory conditions. These seniors are being groomed for potential economic eviction. Those who cannot afford to perform the maintenance being requested will be the first to receive 7 or 14 day notices to comply with rules and regulations. The normal minimum cost stated in these notices is usually $300. The most common notice in a KSFG mobile home park is to pull weeds. The cost to the home owner if the weeds are not pulled within the 7 or 14 day notice period is a minimum of $300 for SCM maintenance personnel to pull them for you. This $300 "Reasonable Incidental Service Charge" will appear on your next rent statement. If you dispute the $300 "Reasonable Incidental Service Charge", you may be told to pay or quit and served with 3/60 notifications.
Sierra Corporate Management 7 and 14 Day Notice Examples